Why Amazon Bought Whole Foods, What They've Done Post-Deal, and Where They Go Next, by Benjamin Gordon
It's been more than a year since Amazon bought Whole Foods. Looking back and looking forward, what can we learn about Amazon's goals and strategy? In short – it's all about distribution.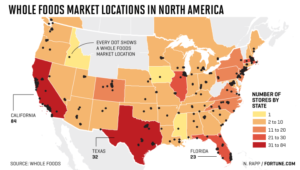 First of all, it's important to understand that the Amazon deal with Whole Foods is partly a real estate play. If you think about it, Amazon bought 465 stores, each of which controls close to 50,000 square feet of space in the ground, plus much more above ground. Imagine if Amazon decided to create a direct-to-consumer fleet in order to give you direct-to-consumer fulfillment from every single store? That's exactly what some people think the ecommerce giant will do. And, in fact, this is one of Amazon's biggest objectives.
They are pursuing what's called frictionless commerce. When you order an item, they want you to receive it as quickly as possible so that you can gain instant gratification. What if you could have a fleet of messengers ready to deliver your goods immediately using every Whole Foods store as a launching pad?
Number two, this deal is about cross-selling. Amazon wants to be able to cross sell whole foods and vice-versa. Already if you go to a Whole Foods today, you can buy Echo devices for $99.99—a dramatic slashing of the price from $179.99. Amazon wants to use Whole Foods to sell more of their goods.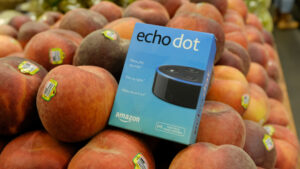 Third of all, the deal is about new solutions. When Amazon announced its entry into the prepared foods category, Blue Apron's stock price was slashed. Imagine what happens now since Amazon can take advantage of the 465 stores and the huge kitchens that every Whole Foods represents. They could use those capabilities to provide a dramatic increase in growth for prepared foods.
Fourth, Whole Foods is about e-commerce fulfillment. Amazon is seeking to provide same-day, and in some cases, same-hour fulfillment. With 465 stores, Whole Foods has a footprint across the entire country. With a network of distribution centers, Whole Foods can give Amazon entry to every major market. Imagine if the next time you bought from Amazon, you got it in one hour, fulfilled directly from a Whole Foods location?
A fifth issue is robotics. What if Amazon decided to use its investment in automation to slice the labor costs in the food business? The food industry employs over 3 million people. With new labor-saving technology, could Amazon cut those costs and accelerate the speed at which they can deliver an order right to your doorstep?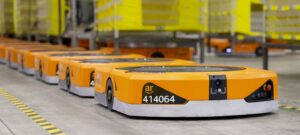 And a sixth lever is reverse logistics, as pioneered by GENCO (now Fedex). It costs 10x as much money for products to go backward in the supply chain in comparison with forward. When you return a product, the company loses money. With 465 locations, can Amazon find a way to slash those distribution costs?
It's worth noting that on the day Amazon announced the Whole Foods deal, their market value increased by approximately $14 billion. That's almost identical to their purchase price. In essence, they bought Whole Foods for a net investment of zero!
In the end, it may be all about logistics, innovation, and the last mile.
Finally, this will be a catalyst for more new deals. Just a few days later, Target acquired Grand Junction, which was an ecommerce and last mile logistics company in which Cambridge Capital had invested.
Why did they do it? Like every retailer today, with one eye on their business and the other eye on Amazon.
For more on Amazon-Whole Foods and the underlying distribution factors, please see my logistics blog, personal blog, this interview, and this article.