In the race to digitize the truck brokerage market, will the winner be an incumbent or a challenger?
The upside is enormous. Trucking is a $734 billion market. Truckload and less-than-truckload revenue constitutes close to $400 billion. If 20% of that market is outsourced, then truck brokerage spending totals $80 billion. This large, fragmented market is the reason why many call truck brokerage "the next frontier of automation."
The incumbents are the major companies in truck brokerage. They include XPO, Echo Global Logistics, CH Robinson, and UPS. The challengers are the venture-backed digital freight brokers. They consist of Uber Freight, Loadsmart, Convoy, Transfix, and others. Who will win?
The momentum seems to be on the side of the challengers. Convoy raised $185 million at a $1 billion valuation last September, and is now reputedly in midst of a financing that will value the company at more than $3 billion. This is a lot of progress for a company founded in 2015. Since then, the company has hired over 900 employees, raised over $260 million, and recruited corporate investors, venture capital firms, and mutual funds like T. Rowe Price.
More broadly, logistics technology startups have attracted over $2 billion in capital. This seems like a staggering amount of investment. Shouldn't this give the startups unbeatable resources?
The Empire Strikes Back
However, the incumbents have several advantages.
First, they are larger. XPO has attained an enterprise value of $14 billion. With $17 billion of revenue, $1.6 billion of EBITDA, and an annual technology spend in excess of $500 million, XPO has enormous resources. Similarly, C.H. Robinson is worth $12 billion, generates $16 billion in revenue, and produces over $1 billion in EBITDA. Echo Global Logistics has $770 million in value, $2.3 billion in revenue, and $74 million in EBITDA. UPS, which bought Coyote Logistics to expand in truck brokerage, is the largest of them all, with $122 billion of enterprise value, $73 billion of revenue, and $8 billion of EBITDA.
Compare the incumbents to the challengers when it comes to revenue. As the chart below illustrates, the five incumbents listed all have revenue in excess of $2 billion. By contrast, the largest of the digital freight brokers, Convoy, has less than $100M.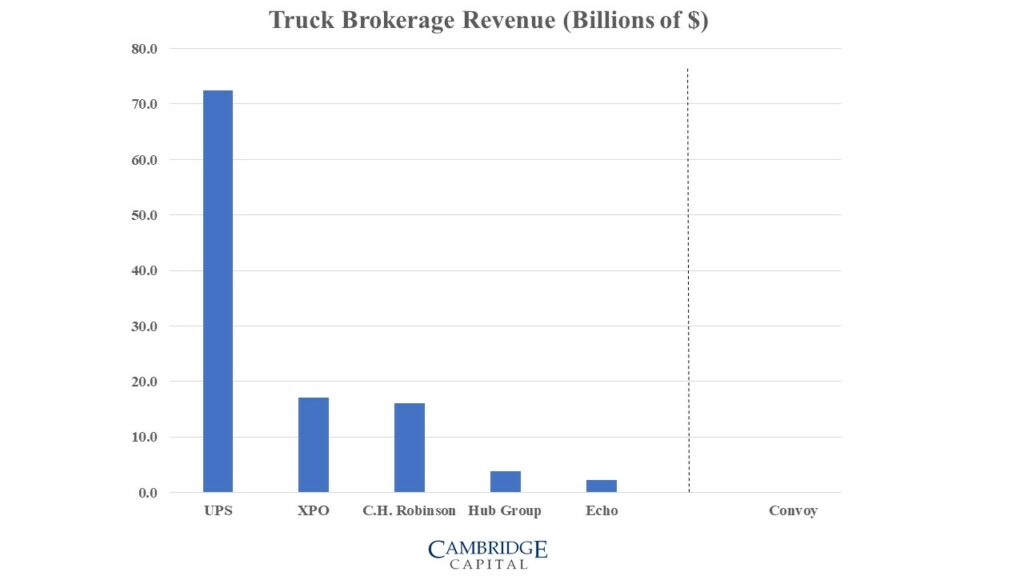 As an aside, I should point out that private companies generally do not publish their financial data. Cambridge Capital is an investor in logistics and technology companies, and sees plenty of data, but keeps private data confidential, out of respect for the companies with whom we speak regularly. Thus, for this article I am relying strictly on public reports, in places like this source. In any event, the precise data points may change, but the general distinction should be clear.
Second, the freight brokerage giants are investing in technology. C.H. Robinson CEO Bob Biesterfeld has recently announced plans to deploy $1 billion in technology investment over the next five years. To put that in perspective, C.H. Robinson already deploys over 1,000 engineers and developers, e.g. more than the entire headcount (including non-engineers) at Convoy. This is a subset of the 15,000 employees at their company. Is it unreasonable for C.H. Robinson to argue, therefore, that they have more digital capabilities than the so-called digital freight brokers?
Third, the incumbents have decades of operating experience with actual customers, and a feedback loop that is enabling them to innovate based on customer input. C.H. Robinson has a long history, dating back to 1905. Echo was founded exactly a century later, in 2005. Its roots were a fusion of brokerage and technology. UPS, Coyote, J.B. Hunt and XPO all draw on extensive experience with brokerage and technology customers. If early adopters are crucial to technology companies, then what could be more valuable than this experience.
The Disruptors
If the incumbents are so strong, why are challengers attracting so much capital?
The biggest reason: logistics is a structurally attractive market. It is large, growing, and fragmented. The global supply chain is a $1 trillion market. Niche sectors are growing at 15-20%. And the top 50 companies control just over 50% of the total addressable market. In sum, these are exactly the criteria that investors seek.
In addition, freight is an industry that has been notoriously difficult to automate. Startups have been proclaiming their intent to use the Internet to "disintermediate the middleman" in logistics for more than 20 years. Yet the 3PL sector has not only survived, but in fact it has thrived. Twenty years ago, the 3PL market was estimated at $40 billion. Today, it is over $200 billion in the United States. Furthermore, the global 3PL market is nearly $1 trillion today.
As a result, capital has been pouring into this arena. There are at least 28 unicorns in logistics today. These include not just digital freight brokers, but also companies in areas like drones, autonomous vehicles, and more. For instance:
Who Will Win?
In the 1992 Presidential election, candidate Paul Tsongas said, "The Cold War is over. Japan won!" Could the real winner be someone else?
I would argue that, in a market as large and fragmented as truck brokerage, there could be multiple winners. Existing freight brokers can improve their automation and capture more share. New digital brokers will use new technology and marketing to win new accounts. Both categories can achieve value creation going forward. And, as more companies compete to provide better solutions at a lower price, the ultimate winner will be the customer.