What is the outlook for the supply chain sector in 2023?
We hosted over 350 of the world's top supply chain CEOs and leaders at BGSA Supply Chain. Those that have attended this invitation-only event call it "Davos for Logistics." And indeed, this gathering provides a unique opportunity to learn what the best and brightest in supply chain have to say.
What did we learn?
Here are a few highlights for our 2023 outlook:
First, the BGSA Supply Chain Index reflected a steep decline in the public markets, overall and for the supply chain arena. The category of publicly-traded supply chain companies dropped 15%.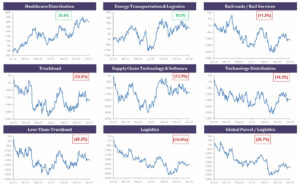 Second, we saw a record drop in freight rates. We are witnessing high volatility, dropping rates, and significant profit erosion, for trucking, freight brokerage, and most categories in the supply chain arena.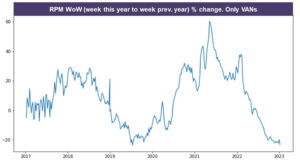 Third, while the US-China trade war accelerates, Mexico is becoming a long-term beneficiary. This has the potential to reshape supply chains for the long term, as US-Mexico ties continue to strengthen.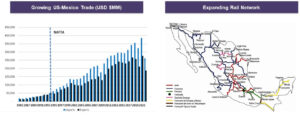 Fourth, the capital markets remains active. In 2022, we saw a wave of M&A and investment activity. We believe these deals can be classified in five categories.
Consolidators looked to buy up competitors. For instance, Lineage Logistics bought Versacold to consolidate its leadership in the cold storage warehousing arena
Logistics companies pursued deals to expand their services. STG Logistics bought XPO Intermodal to expand its port-based capabilities in intermodal.
Ecommerce companies sought to move into logistics. Cart.com acquired FB Flurry to build its fulfillment network.
Cross-Border expansion. Schenker made a major move in US transportation with the acquisition of USA Truck.
Investors doubling down on winners. Tiger Global made its second investment in less than a year in GreenScreens.ai, which expanded over 500% in the past year.
Meanwhile, at Cambridge Capital, we believe we are in the early innings of a transformation in high-growth digital supply chains. Some of the key themes we see include last-mile logistics, AI to automate supply chains, supply chain visibility, reverse logistics, and tech-enabled "man + machine" services. To illustrate our ideas and outlook, please see below. They include the following:
Bringg: for the B2C supply chain, last-mile delivery comprises 41% of total costs. In last-mile logistics SaaS, we believe Bringg is emerging as the market leader. We have backed them since 2016, have watched them scale up from a startup to the incumbent, and are pleased to welcome Insight Partners and others in backing one of the latest unicorns in logistics.
ReverseLogix: as ecommerce increases, returns are shooting upward, since 30% of online purchases are returned. The reverse logistics market suffers from manual processes, a lack of visibility into returns data and metrics, and a poor customer experience. We believe ReverseLogix has built the first true end-to-end returns management system (RMS).
Parcel Perform: ecommerce growth is also driving demand for supply chain visibility. Founded by DHL alumni, Parcel Perform understands the market gap in visibility, and is giving consumer brands and marketplaces a powerful tracking solution. We are proud to back them, along with Softbank.
Everest: as freight markets continue to exhibit volatility, shippers need reliable and high-quality freight management companies. The Everest team has built a tech-enabled truck brokerage and logistics solution that is growing rapidly with blue-chip CPG companies.
Boa Logistics: medium-sized shippers, especially those with perishable goods, have long been plagued with high delivery costs and poor service levels. Boa Logistics is the largest dedicated temperature-controlled LTL platform in the country serving this niche. Boa is rapidly expanding nationwide on the back of a recapitalization by Cambridge in August 2022.
byrd: Europe is a highly-fragmented market, especially for e-commerce fulfillment. byrd is the leading provider of software-based fulfillment services in 8 countries, and allows brands in the region to sell globally, but be serviced by a centralized tech-enabled partner that is accountable for results.
Liftit: Another region with major fragmentation and opportunity is Latin America. Liftit built a tech-enabled trucking marketplace servicing B2B customers in Colombia, Mexico and Ecuador, finally bringing visibility, automation and optimization to large enterprise shippers in these countries.
DeliveryCircle: On-demand deliveries for specialty/large products such as tires and other items have been overlooked by many market participants, and DeliveryCircle has built a strong niche business focusing on this lucrative sector.
Greenscreens.ai: There has been much talk of AI in transportation – but little to show for it. Greenscreens.ai has built the first predictive pricing model for truckload freight that actually provides tangible value to customers. Greenscreens.ai has grown over 500% this year, with some of the strongest unit economics we have ever seen – evidence of true product-market fit.
For more on our outlook for 2023, please see here.
–Benjamin Gordon, Cambridge Capital